close
What are you looking for ?
ISS Switzerland aims to support professionals in providing a consistent level of emergency assistance across the country and finding long-term solutions which offer future prospects.
We advise minors on asylum claims and administrative processes and assess their personal situation to offer them the assistance best suiting their needs. ISS also looks for foster parents who could host the isolated minor.
To help with the integration process, we find out about and note their skills and set up professional integration plans in collaboration with the relevant services.
For those wishing to return to their home country, we use our international network to find individual long-term solutions. For example, we support young migrants to prepare for and embark on a career to give them a future in their home country.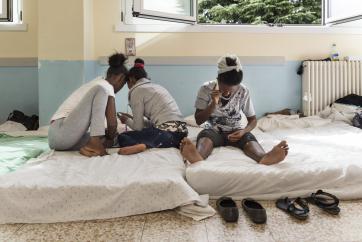 Individual assistance,
Individual unaccompanied minor assessment,
Family and social situation assessment,
Durable solution search,
Legal representation,
Integration assistance,
Information for unaccompanied minors and professionals

Coordination of organisations and professionals working in the field through the Alliance for the Rights of Migrant Children (ADEM),
Targeted, comprehensive, objective information sharing via the Migrant-children.ch Platform.
30
scolarships funded by ISS Switzerland
132
UMs benefit from legal assistance from ISS Switzerland
300
young persons mentored